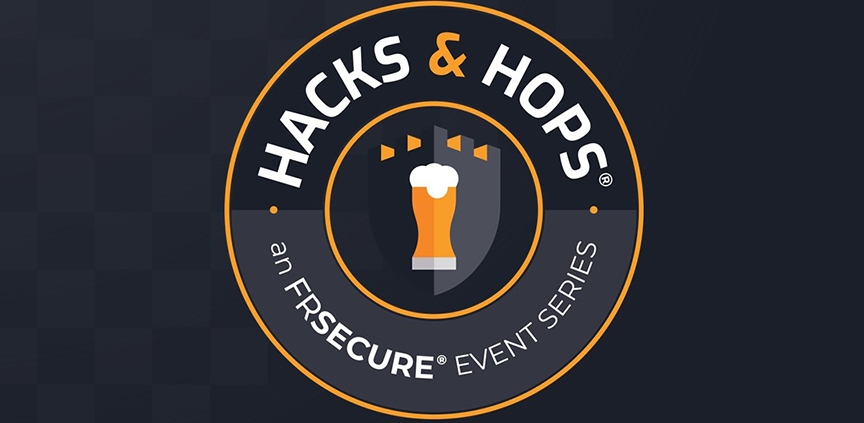 Hacks & Hops Virtual Security Conference
featuring Ostra's Michael Kennedy as speaker – October 14, 2021
Hacks & Hops is an event hosted by one of Ostra's Channel Partners, FRSecure, that brings information security professionals together to learn, network and enjoy beer.
Save the date from 9a-5p on Thursday, October 14 for this free full-day, virtual conference that includes 12 speakers and 8 topics—ranging from mental health, cyber insurance, MSSPs, and more. Michael Kennedy, Founder of Ostra Cybersecurity, will be the final speaker of the day. Attendees can earn CPE Credits* by participating in this event.  Visit https://hacksandhops.com/ to register.
Ostra is a sponsor of this free event.
*CPE Credits – Up to 5 hours of self-study – Learn More Here
Presenter information
Learn from experts in various niche areas of cybersecurity. The lineup of engaging speakers for this virtual conference includes:
Evan Francen, Founder & Chief Executive Officer of FRSecure & SecurityStudio: Welcome
Joe Scargill, Special Agent in Charge Twin Cities at Secret Service: Opening Keynote 
Arin Brown, Chief Technology Officer at SEACHANGE: How to Build a Security Program From the Ground Up 
Tony Lambert, Senior Intelligence Analyst at Red Canary and Mike Thompson, Incident Case Manager – Team Lead at FRSecure: Panel Discussion
Amanda Berlin, Chief Executive Officer & Owner, Mental Health Hackers: Mental Health Hackers
Oscar Minks, Director of Technical Services at FRSecure and Sonu Shankar, Head of MDR Product at Arctic Wolf: How to Stay Ahead of Threat Intelligence
Tim Smit, Cyber Security Practice Lead & Owner at Lockton: What's Going On With Cyber Insurance and Why It's Still Important
Mike Kennedy, Founder at Ostra Cybersecurity: The Problem With Tech Providers and MSSPs 
In his 40-minute presentation entitled The Problem with Technology Providers and MSSPs, Ostra Founder Michael Kennedy will share:
Best practices to recognize and reward clients' current cybersecurity efforts
Obvious challenges being ignored (by clients and providers), and what to do about it
Opportunities for ALL to step up, keep learning and doing better, plus some words of advice to the cybersecurity industry
Additional Q&A (time permitting)
 How To Register
Registration is free. Visit https://hacksandhops.com/ to learn more or register for this all-day event (9a-5p CT) on Thursday, October 14, 2021.
About Ostra Cybersecurity
As a next-generation managed security service provider (MSSP), Ostra Cybersecurity combines best-in-class tools, proprietary technology and exceptional talent to deliver Fortune 100-caliber protection for businesses of all sizes. The result is a multi-layered, 360-degree solution that allows you to set it and forget it. By making cybersecurity technology simple and accessible to business of all sizes, Ostra is helping create a world with greater data privacy and protection for all of us. For more information, visit www.ostra.net.
Learn more about cloud data protection, email threat prevention, and how to prevent ransomware, various types of malware and more. Contact Ostra today for a free assessment to see what vulnerabilities may exist for your business or clients.

As Your Trusted Cybersecurity Team, Ostra makes cybersecurity simple and accessible to businesses of all sizes. Ostra provides its partners and their clients with a multi-layered, comprehensive and fully managed Security as a Service. 
https://www.ostra.net/wp-content/uploads/2021/09/Blog_HacksHops_FeaturedImage_864x576.jpg
576
864
Ostra Cybersecurity
https://www.ostra.net/wp-content/uploads/2023/08/Ostra-logo-2023.png
Ostra Cybersecurity
2021-09-08 07:00:14
2023-09-08 15:58:09
Hacks & Hops Virtual Security Conference