Happy New Year! Here are a few of Ostra Cybersecurity's highlights from the past year, along with a glimpse of where we're heading in 2022:
Blocking Threats in 2021
In response to a huge increase in cyber threats throughout the year, Ostra's information security team was busier than ever in 2021.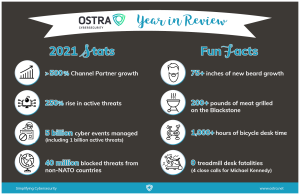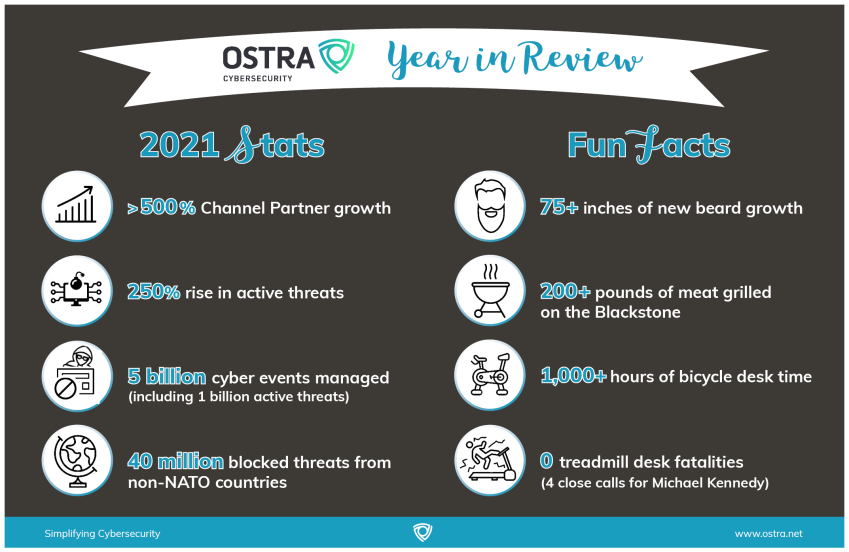 Ostra Stats
Ostra saw a 250% increase in the number of active threats that we blocked for our clients this year
Of the 5 billion cybersecurity events that we managed in 2021, approximately 1 billion were considered active threats
40 million of these blocked threats came from non-NATO countries such as Russia and China
General Ransomware Stats
Ransomware continues to be one of the largest cyber crime threats1
Average ransomware payout by a mid-sized company was $170,404 in 20212
Average ransomware payments in Q1-Q3 of 2021 was 165,50043
Celebrating Our Channel Partners
Ostra is known for breaking down traditional silos and filling gaps within the heavily segmented industry of cybersecurity. One of the many ways we accomplish this is through our rapidly growing Channel Partner network.
Cybersecurity is a team sport that requires teamwork and trust. Ostra's Channel Partner network has grown more than 500% in the last year—bringing Fortune 100-caliber data protection to clients in diverse markets and applications.
These partnerships also enable Ostra to help our clients who are seeking referrals for MSP services, IT consulting, cyber insurance and/or security advisory services such as assessments, compliance and vCISO services.
Need a referral? If you have questions about what our Channel Partners offer, or if you are looking for service recommendations in these areas, please contact Ostra.
Staying Vigilant in 2022
Ostra continues to be proactive about cybersecurity in 2022. This includes evaluating, developing and implementing new tools and services that offer our clients the best layered protection against malware, ransomware and other threats to their data security.
We know the best way to protect against attacks is to minimize the attack surface. That means making sure all endpoints are secure—including desktop PCs, laptops, smartphones, IoT devices, tablets, servers, or other devices that are connected to your network.
Stepping it up: Many of our clients have implemented additional layers of security including Mobile Device Management (MDM) and Cloud Security (CASB) to further reduce their attack surface. To learn more about these options, contact us.
Listening and Leading
Ostra believes in listening to our clients and peers in the industry, which is why we conducted Voice of Customer (VoC) surveys with current clients and prospects in early 2021:
We were able to test and validate the most significant needs of both professional services companies who want to purchase, implement and maintain their own cybersecurity as well as how IT/technology companies select and implement cybersecurity tools for their clientele.
Ostra further validated that our mission to combine best-of-class cybersecurity technology into a packaged solution that is easy to install and simple to manage is what both professional services companies and IT/technology providers want.
Finally, Ostra learned that the market trusts us (and our partners) to continue developing a best-in-class cybersecurity solution. Our growing Channel Partner network ensures that Ostra's solution—simple and complete cybersecurity coverage—will be available to every business, including small and mid-sized companies.
Ostra's mission remains focused on educating our community. This is why we developed and shared more than 25 blogs with cybersecurity news, trends and best practices. We will continue to deliver more educational content in 2022, so stay tuned for more on our blog and on LinkedIn.
Speaking of which… Ostra is always on the lookout for helpful thought-leadership content from our partners and clients. If you have a cybersecurity resource or educational topic you'd like us to consider sharing with our readers, please send an email to marketing@ostra.net.
Ostra Cybersecurity provides comprehensive, Fortune 100-caliber cybersecurity to businesses of all sizes. Contact us to learn more or to schedule a FREE cybersecurity assessment.
3 Stats found on www.coveware.com for Q1 2021 ($220,298), Q2 2021 ($136,576) and Q3 2021 ($139,739) indicate the average payment in Q1-Q3 was $165,530.

As Your Trusted Cybersecurity Team, Ostra makes cybersecurity simple and accessible to businesses of all sizes. Ostra provides its partners and their clients with a multi-layered, comprehensive and fully managed Security as a Service. 
https://www.ostra.net/wp-content/uploads/2022/01/Ostra-Blog_2021-Recap_Featured-Image_01-05-22_r2.png
3556
5333
Ostra Cybersecurity
https://www.ostra.net/wp-content/uploads/2023/08/Ostra-logo-2023.png
Ostra Cybersecurity
2022-01-06 10:00:04
2023-09-08 15:51:58
Ostra's Year in Review – 2021