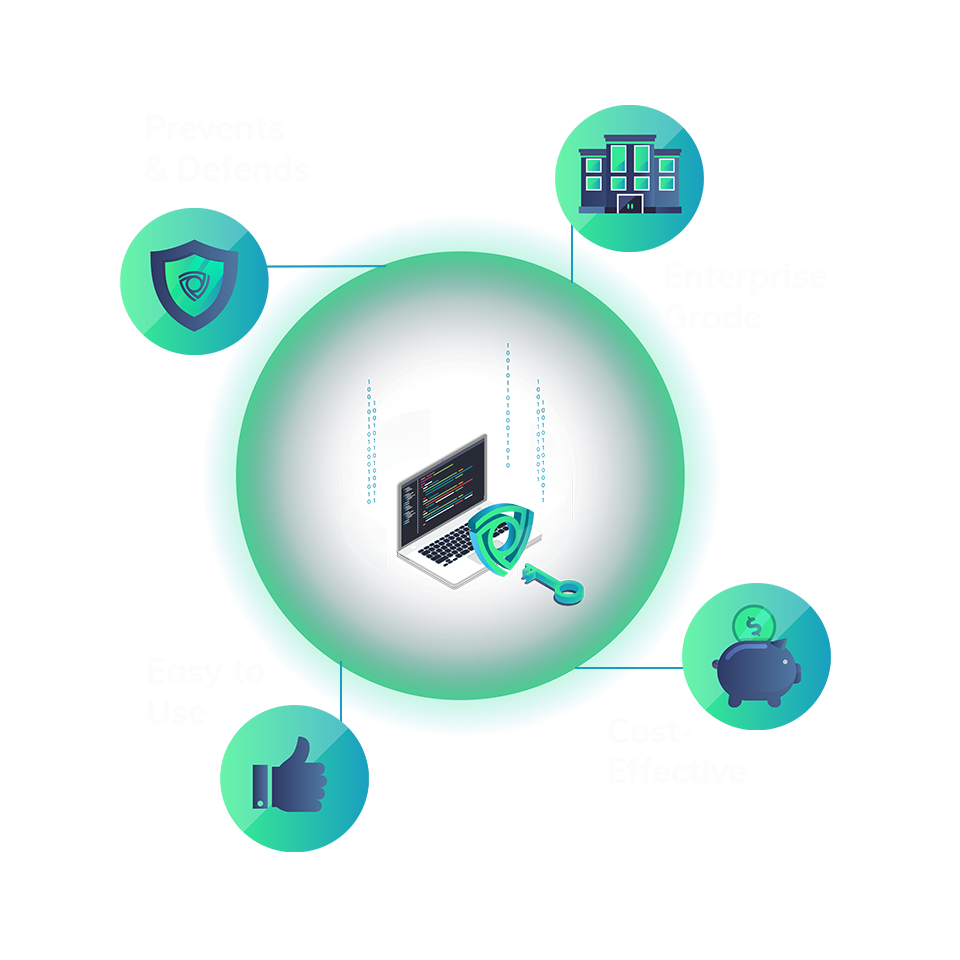 Let our trusted team win
your cybersecurity battles.
Get the best results with one comprehensive, easy to install, managed solution.
Contact Us
Ostra delivers holistic cybersecurity for small and mid-sized companies
You know the importance of keeping systems and data secure from cybercriminals, but best-in-class, enterprise-grade protection has not always been a realistic option. Until now.
Collaborating with a partner network helps Ostra achieve our mission of simplifying cybersecurity for SMBs. Our robust, multi-layered approach to cybersecurity rivals the type of protection that the world's largest companies rely on. We harness the power of the latest generation of cybersecurity tools and make them accessible for SMBs.
Ostra provides a preventative solution to email threats, ransomware attacks and malware infiltration—we're constantly updating, monitoring and protecting our clients.
Read more about how Ostra empowers our Channel Partners.
Our Technology Advantage
Ostra Cybersecurity's proprietary technology and comprehensive managed solution create a sphere of protection for your business and employees, no matter where they are located or what device they are using.
As your trusted cybersecurity team, Ostra delivers best-in-class tools across every category of cybersecurity, paired with exceptional talent to make sense of it all. We provide the integration, security management, monitoring, and remediation that other tools and solutions simply can't match.
We configure the very best and latest technologies into one easy-to-install platform that provides holistic, superior protection for clients. Ostra leverages real-time threat intelligence, advanced analytics, machine learning and more to proactively deal with threats of every kind—from brand-new phishing scams to malware that has been stalking your endpoints for months.
Learn more about Why Cybersecurity Should be on Every Business Owner's Radar.
Ostra believes every business should have access to best-in-class data protection
Cybercriminals are increasingly targeting smaller businesses—and Ostra decided to do something about it. In today's constantly changing landscape of digital threats, having multi-layered protection is essential to fully protecting both data and customers.
Yet, too many small businesses struggle with obtaining the vital cybersecurity resources to adequately protect themselves. Ransomware attacks, firewall breaches, malicious viruses, and email hacks don't have to cripple your business.
Our comprehensive cybersecurity solution can prevent disruptions to your operations while safeguarding your company and client data. By making cybersecurity technology simple and accessible to business of all sizes, Ostra is helping create a world with greater data privacy and protection for all of us.
Contact us to learn more.
Ostra has a history of building
elite data protection solutions
Ostra came from the unique insight of our Co-Founder, Michael Kennedy, and his 20+ years of work for one of the world's largest healthcare providers. Throughout his career, he recognized that most companies outside the Fortune 100 did not have the enterprise-level protection for their most valuable asset, their data.
Michael co-founded Ostra in 2018, leveraging his strong reputation and relationships in the security industry to create a 360° best-in-class software solution—specifically designed to help small and medium-sized businesses proactively protect against known and unknown cybersecurity threats.
Read more about The Ransomware Attack That Sparked Ostra Cybersecurity.
Ostra prevents problems before they happen
With Ostra comes a team of experts in the field of relationship management, IT integrations and decades of combined Cybersecurity expertise.
Our guiding philosophy is: prevent vs. react, so we operate behind the scenes to protect businesses by managing threats before they get in. This saves our clients time and tens of thousands of dollars dealing with costly problems associated with simply reacting to threats and data breaches after they occur.
Today, Ostra serves companies in a wide spectrum of industries—Healthcare, Finance, IT/Technology, Legal, Staffing/Consulting, Nonprofits and more. We are a trusted cybersecurity team that protects companies of all sizes against an increasingly complex landscape of cyber threats.
Contact Ostra to see how we can simplify cybersecurity for you or your clients.
See how Ostra solves
unique challenges in cybersecurity 
Ostra Cybersecurity combines best-in-class tools, proprietary technology, and exceptional talent to deliver Fortune 100-level protection for businesses of all sizes.
The result? Peace of mind. Our multi-layered, 360-degree solution – managed by our trusted team of cybersecurity experts – truly that allows you to set it and forget it.