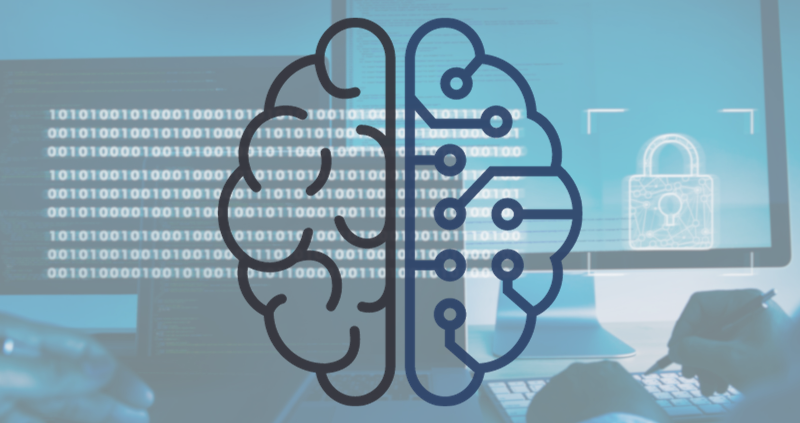 Well-Informed and Well-Balanced: The Link Between Cybersecurity Awareness and Mental Health
When it comes to mental health, the fall and winter months can be especially challenging for many people—including those of us who work in the high-intensity world of cybersecurity.  
Recently, I shared some perspectives on mental health within the cybersecurity industry at Hacks and Hops 2023, an information security event series hosted by FRSecure. This year's event (held October 5, 2023 in Minneapolis) brought together hundreds of security professionals to learn and network. The timing of the conference coincides with Cybersecurity Awareness Month in October. Celebrating its 20th Anniversary this year, the Cybersecurity Awareness Month campaign is a collaboration between government and private industry to raise awareness about digital security and empower everyone to protect their personal data from digital forms of crime. 
Taking a Moment for Mental Health
With so much focus on cybersecurity best practices and tips on staying safe online being shared this month, it also seems like the perfect opportunity to have a transparent conversation about a topic that doesn't always get the same level of attention in our industry: mental health.  
At this point you might be wondering: What does cybersecurity awareness have to do with mental health? Or maybe you believe that everyone who works in cybersecurity is on an inevitable path to constant anxiety (I know I certainly feel that way sometimes).  
Sure, the daily grind of a career in cybersecurity can be stressful and overwhelming. The first reason is that security professionals are especially at risk for cybersecurity fatigue due to staff/skills shortages on their teams that make it harder to stay on top of vulnerabilities. For example, "there will be 3.5 million unfilled cybersecurity jobs globally in 2023—enough to fill 50 NFL stadiums," according to Cybersecurity Ventures. (For more on this topic, read Ostra's blog, Overcoming Cybersecurity Fatigue: Help For IT Service Providers.) 
Secondly, it's hard to be constantly watching out for the bad guys and witnessing the scary stuff happening on the dark web without it impacting your mental health. 
All About Balance
In my experience, taking a balanced approach to cybersecurity awareness is empowering. Armed with the right information, we can take actionto protect our data—and that's a great feeling. By contrast, the opposite extremes of either apathy or paranoia will have a paralyzing effect that solves nothing. The diagram below illustrates this concept in more detail.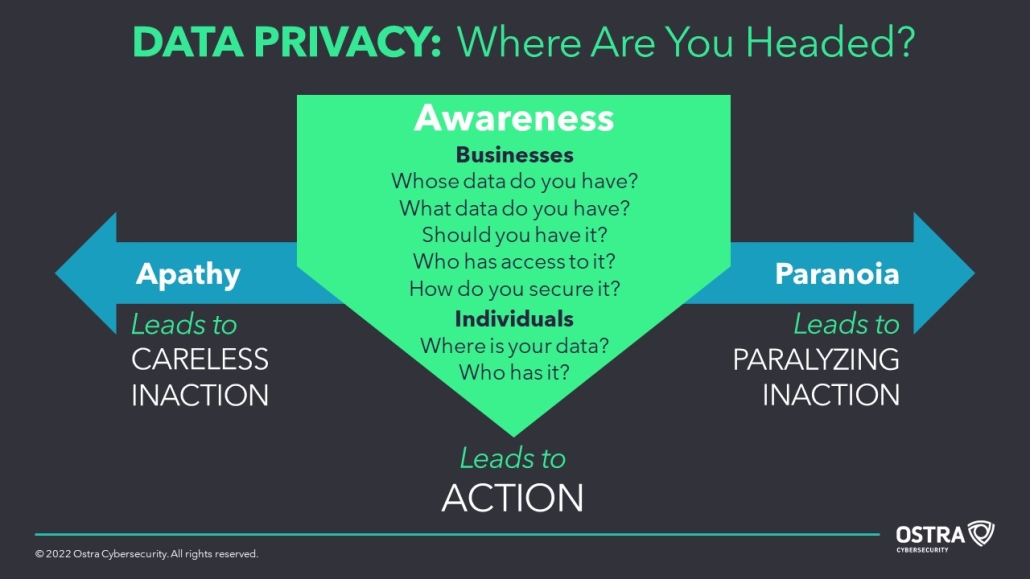 4 Tips to Promote Positive Mental Health
As someone who has spent more than 20 years in the cybersecurity industry, I have dealt with my share of stress, fatigue, what-if thinking, and random episodes of sheer panic. But I have survived and learned a lot in the process. So here are 4 tips that have helped me pursue positive mental health habits. Hopefully, they will help you as well:  
Having thoughts of impending doom does not mean doom is impending.

That tightness in your chest or pit of your stomach is a natural response to what we are seeing every day on the front lines of cybersecurity. It's your cue to take a step back and find something good, funny, or hopeful to think about. Refresh your perspective.

 
Normalize talking about how you feel.

As soon as you acknowledge it and say it out loud to someone else who understands exactly what you are going through—because they

are

going through the same thing—it becomes less scary. Addressing mental health in the workplace and fostering a safe environment for sharing feelings of stress is also crucial for employers and company leaders to promote employee well-being, enhance productivity, and create a positive, inclusive culture. 

 
Do what works for you.

When it comes to relieving stress and anxiety, some people take walks or go to the gym. Others lean into mental health apps, meditation or deep breathing exercises. Personally, I like to recharge by finding ways to help other people and spending time outdoors.  Whatever your go-to method for shedding stress or anxiety might be, I promise the time will be well spent.

 
Reach out to another human who can support you when you need it most.

It can be a friend, mentor, spouse, trusted colleague, neighbor, or mental health professional. If you or someone you know is experiencing a mental health crisis, call or text

988

immediately. If

you are uncomfortable talking on the phone, you can even chat with someone at the Suicide & Crisis Lifeline at

988lifeline.org

, or text

NAMI

to

741-741

to be connected to a free, trained crisis counselor on the Crisis Text Line. You don't have to suffer alone—there are so many people and communities who are ready to help.

 
During the month of October and beyond, please join me in promoting cybersecurity awareness while also making mental health a priority in your own life but also within your organization. Our world needs people who will bring their best selves to the difficult mission of protecting clients—let's step up. 
For more information about Cybersecurity Awareness Month, including tips and resources to help you stay safe online, visit staysafeonline.org. 

Michael Kennedy is the founder of Ostra Cybersecurity, a multi-layered and fully managed Security as a Service. Recognized as a cybersecurity industry trailblazer, he is a dynamic leader, speaker, and fierce advocate for data privacy. 
https://www.ostra.net/wp-content/uploads/2023/10/Blog-cover-photo.png
600
800
Michael Kennedy
https://www.ostra.net/wp-content/uploads/2023/08/Ostra-logo-2023.png
Michael Kennedy
2023-10-24 04:00:22
2023-10-24 09:35:33
Well-Informed and Well-Balanced: The Link Between Cybersecurity Awareness and Mental Health