Why SMBs are hot targets for ransomware (and how to avoid becoming a statistic)
Although today's businesses of every size are busy navigating data security issues, cybercriminals know that small and medium-sized businesses (SMBs) are even more vulnerable.
In the U.S. alone, there are 32.5 million small businesses—defined as having fewer than 500 employees. They make up about 99.9% of all U.S. businesses (Small Business Administration, 2021). For cybercriminals, that's a wide-open field of prime targets for ransomware.
Why are SMBs more vulnerable? There are several factors, including:
Smaller IT/security staff and infrastructure
Lack of awareness or knowledge about how to protect themselves
A false sense of security (e.g., "criminals only target huge companies")
Belief they cannot afford to implement the same robust safety measures as larger firms
Some SMBs rely on consumer-grade, off-the-shelf solutions to protect their data. But SMBs deserve a better approach to protecting one of their most valuable assets—their data, and their customers' data. Read more about why cybersecurity should be on every business owner's radar.
Know Your Risk
Consider these alarming statistics about the impact of cyberattacks on SMBs: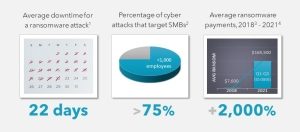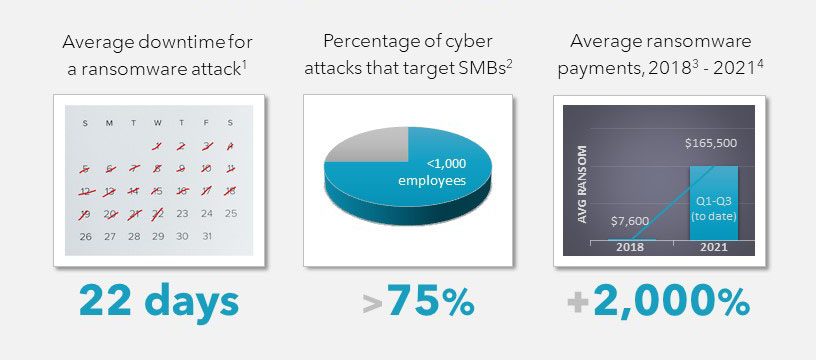 Here are a few additional facts that show why it's important for SMBs to protect their data:
From Big to Middle
According to Coveware, an incident response and recovery firm, ransomware continues to affect small businesses disproportionately because "the profits ransomware actors generate are too high, and the risks are too low."
In their October 2021 article, Ransomware attackers down shift to 'Mid Game' hunting, Coveware stated:
"In Q3 almost 44% of attacks impacted businesses with between 101-1,000 employees, up from 38% in Q2, reflecting threat actors potentially shifting from Big Game Hunting to Mid Game Hunting."
Awareness Inspires Prevention
For an inspiring example of this, read Ostra's blog about a vigilant Tesla employee who helped prevent a massive ransomware attack at the company. Admittedly, Tesla is definitely NOT a small business—but the same principle of being prepared can benefit SMBs as well.
The Ransomware Attack that Sparked Ostra
Cybersecurity trailblazer Michael Kennedy started Ostra Cybersecurity after a ransomware attack wreaked havoc on his friend's small business. Read the full story here.
Ostra was founded with the belief that SMBs should be able to access the robust, layered data protection tools and strategies that the world's largest companies rely on. Ostra's managed cybersecurity solution offers Fortune 100-caliber, 360-degree protection that allows companies of all sizes to protect their most valuable asset—their data.
Ready to learn more about how to prevent ransomware and other cyber threats from impacting your company or your clients? Contact Ostra today.

As Your Trusted Cybersecurity Team, Ostra makes cybersecurity simple and accessible to businesses of all sizes. Ostra provides its partners and their clients with a multi-layered, comprehensive and fully managed Security as a Service. 
https://www.ostra.net/wp-content/uploads/2022/02/ransomware-blog-featured-image.png
628
1200
Ostra Cybersecurity
https://www.ostra.net/wp-content/uploads/2023/08/Ostra-logo-2023.png
Ostra Cybersecurity
2022-02-11 20:00:46
2023-09-08 15:50:23
Why SMBs are hot targets for ransomware (and how to avoid becoming a statistic)