The Ostra Journey: Reflecting on 5 Amazing Years
Five years ago, the decision to start Ostra Cybersecurity was not an easy one. Leaving a successful, well-paying IT job with Fortune-5 company perks so that I could help small businesses become more secure was definitely a mission-motivated move, but that was not my only reason for wanting to make a change. I was looking for more balance in my life and needed to increase my time spent with family and friends as well, so I took the plunge.
In 2018, that first year building out Ostra's brand and taking our first crack at a security solution was fun and exciting, not to mention a vastly refreshing change of pace from hopping on an airplane every week to shake hands with higher-ups across the globe as the corporate grind pushed my body, mind, and soul to its limits.
Those early days working with various industry professionals to develop Ostra's sales materials—while at the same time tackling the design engineering of our technology stack—made for long days and nights that blended together. Our first set of customers were patient with us and provided the invaluable feedback we needed in order to solidify our messaging and our solution so we could continue to grow.
Key Milestones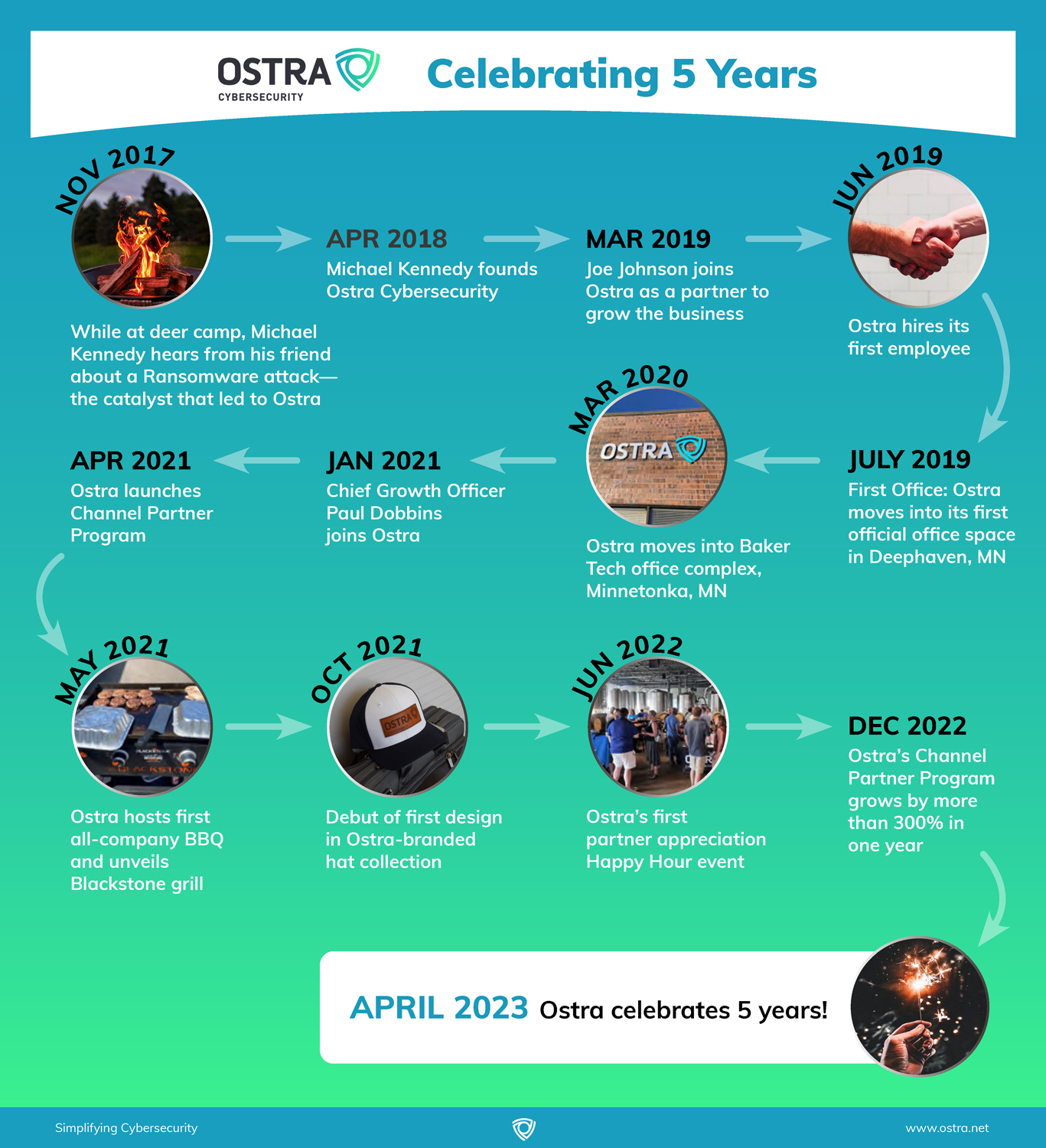 Since Ostra's inception, there have been some key milestones that created inflection points for the business and our constant growth along the way. The first was my chance introduction to Joe Johnson, a transformational business leader who would later become the president at Ostra.
That following year, Joe and I were able to double the business and grow Ostra enough so we could move our operations out of my basement and public library conference rooms to our very first office space. Hiring the first four employees soon followed.
That momentum would continue with the addition of Paul Dobbins as Chief Growth Officer. This kicked off a fast-paced season that included building our channel partner program and adding 20 more employees, taking us to our current (and much larger) office space in Minnetonka, Minn.
Most recently, having my long-time friend Emad Bhatt join Ostra as VP of IT not only put one of the smartest engineering architects on our leadership team but secures our position as a technology leader in the security-as-a-service space.
As we mark our five-year anniversary in 2023, I am just blown away by how much Ostra has achieved. Being surrounded by my new Ostra family, building and growing a business with a mission to protect small businesses, and creating a positive culture that values people over money are just some of the things that have made this story so amazing.
For those who need a reminder of why Ostra exists—including the specific incident that led to our mission to fiercely defend and protect small businesses—check out this blog: The Ransomware Attack that Sparked Ostra Cybersecurity.
Remembering to pause and look at all the things creating gratitude in my life is sometimes hard to do in our fast-paced industry. But as I look around at all the employees, people, clients, and partners that have impacted this journey, I am forever grateful for every single person, challenge, and opportunity we have come across.
You have helped bring Ostra to where we are today. Thank you. (Off to grab another box of tissues.)

Michael Kennedy is the founder of Ostra Cybersecurity, a multi-layered and fully managed Security as a Service. Recognized as a cybersecurity industry trailblazer, he is a dynamic leader, speaker, and fierce advocate for data privacy. 
https://www.ostra.net/wp-content/uploads/2023/04/Ostra-5-Year-Anniversary-1.jpg
1000
1500
Michael Kennedy
https://www.ostra.net/wp-content/uploads/2023/08/Ostra-logo-2023.png
Michael Kennedy
2023-04-25 08:00:01
2023-09-08 15:39:21
The Ostra Journey: Reflecting on 5 Amazing Years