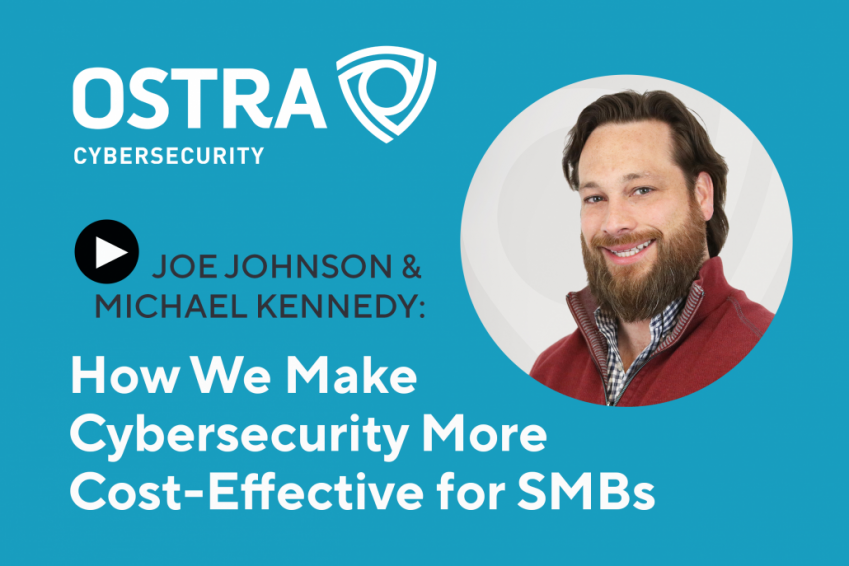 Cyberattacks against smaller businesses are increasing, and unfortunately many of these businesses are not adequately protected. This leaves them vulnerable to ransomware, types of malware and data breaches that puts their own bottom line and reputation at risk, while also giving criminals access to their clients' data and systems.
President Joe Johnson and Co-Founder Michaael Kennedy share how Ostra has packaged Fortune 100-level cybersecurity expertise into a cost-effective solution for small business.
SMBs Are Worth Protecting
Unlike large enterprises that invest significant resources to achieve custom-built, multi-layered cybersecurity solutions, many small and mid-sized companies struggle to find affordable options for getting the level protection that they actually need.
But despite the fact that many SMBs believe they aren't on a typical hacker's radar, statistics show that cybercriminals are drawn to low-hanging fruit. (Case in point: IBM reported that small and mid-sized businesses are hit by 62% of all cyberattacks, or about 4,000 per day.) Criminals are specifically looking for smaller businesses that interact (either as a vendor or supplier) with globally recognized brands, in hopes that they will provide an easier access point for the treasure-trove of data that those corporations work hard to protect.
Ostra was founded for the purpose of making Fortune 100 level cybersecurity accessible to small businesses and medium-sized companies. Our unique combination of best-in-class tools, proprietary technology and human expertise enables Ostra to provide a comprehensive managed cybersecurity solution that small businesses can actually afford.
"Ostra is able to provide Fortune 100-level security tools based upon our expertise and experience deploying these technologies in Fortune 100 organizations, and our ability to create scalability and pass through the costs associated with a scalable environment," states Michael Kennedy, Co-Founder. 
One way that Ostra achieved this is by building behind-the-scenes tools to automate many of the processes that occur in SOC analysis and cybersecurity event management within large organizations. Combined, they are able to provide a simple, cost-effective solution for the small to medium-sized business.
In addition to being simple to use and affordable, Ostra's cybersecurity solution is constantly updated. This means the world's best threat intelligence is continually—and proactively—protecting their data against known threats as well as brand new, "zero-day" exploits.
Contact Ostra to see how we can simplify cybersecurity while bringing 360-degree, best-in-class data protection to your business.